7 weeks, 8 countries, 4763 miles, 1 Overly optimistic owner and 1 slightly unreliable 80's repmobile. This is the story of my adventure around Western Europe in a 1987 Mk2 Cavalier SRi
OK, so firstly, yes this has taken me ages to get round to writing up! 
A bit of background to why I managed to wangle such a long and eventful trip - I decided to quit work and spend all of 2015 travelling as much of the world as I could. Starting in May, I ended up in Thailand for 2 months, the USA for 7 weeks and then 7 more weeks in Peru, Bolivia and Chile to round it off and bring me back to the UK just after Christmas. Sandwiched in amongst all that relaxing globe trotting was something that I had always wanted to do, drive around Europe and see France, Germany and Italy. When it came to what car I should use, there was only ever one candidate. Inspired by the trip some of us Members made to Angouleme in France in 2014 I decided on myMk2 Cavalier SRi.
I hope I can convey how enjoyable, and also how challenging the trip was in this blog and I hope you are in some way inspired to hit the open road abroad in your own cars, either with us on one of our club Euro trips or on your own... we wont take that personally!!
March 2015 - Engine change
Early on I decided I didnt want to use the C20LET/F28 2.016v turbo and 6 speed gearbox the car normally has fitted (rather more powerful than the original 1.8!) as that was going to be too thirsty and the F28 was on its last legs. I really wanted something a bit simpler in there to make running repairs less likely and easier, so I managed to buy a good 20XE 'Redtop' from GreyDJ at a great price for which I am still truely appreciative. I borrowed an F20 with a quaiffe ATB from a mate and swapped the lot over one weekend, with Paul Young putting the finishing touches like the exhaust and cambelt change to it one night in April. It fired up straight away and ran perfectly apart from an odd idle problem I managed to cure (so I thought) pretty quickly. A track sesson at the Castle Combe action day to proove the car could take some abuse showed the brakes would give out before the engine! The car was ready. Now it waited while I hit the beach and sipped cocktails in Thailand....
C20LET coming out. Its really cold and raining but its ok because we had sausage rolls.
20XE tucked in. How often is this conversion a 100bhp downgrade?!
Billing to Lille & Amsterdam, July 09th -15th
I decided to attend Billing and head straight for the channel tunnel from Northampton afterwards on the Sunday, as its always a great weekend with the Club. I think this year was my 14th year and I'd recommend the event to anyone.  Lots of advice about breaking down on foreign roads was offered, the usual helpful and encouraging stuff we give all members about to head of into the unknown! A few of us went to a rolling road on the Friday, and the newly installed 20XE made a strong 153bhp with a nice smooth graph. I celebrated with cider. Lots of Cider.
On the Mk2Cav.com stand at Billing.
After Biling a quick run down to Tunbridge Wells to see a mate on Sunday night, then **** got real. Monday morning on the Channel Tunnel and the adventure begins! I got a mile outside Tunbridge Wells and a headlight bulb goes. Ideal right before you go to France (blown bulbs are a big deal over there, you have to carry spares on you at all times) So I loose a load of time finding a shop to replace the spare that I had used at the road side. It was cold and wet in England when I left and I only just made my time slot for the train...... I was looking forward to 'summer' proper in France!
Folkestone - waiting to board the train. Bye bye rain!
On arrival in France I make a very short journey to Lille, about an hour from Calais to stay with another friend overnight. Lilles a great city, very architectural and only and hour from Calais. The weather is no better though!
Lille - Being all cultural. Ive just eaten a shed load of Carpaccio and the world is a good place.
After Lille, I headed straight for Amsterdam, which took me through Antwerp where the Cav was built, alas theres nothing there of the plant anymore so I drove straight on through. In a bid to save money I was camping or staying at friends anywhere I could so I found a well placed campsite in Gaasperplas just outside the city and set up for 3 nights so I could hire a bike and see a bit of the city with 2 full days. My only other trip to Amsterdam had been when I was 19, and I'll be honest. I didnt see much nor do I remember much from that visit..... unless it was a coffee shop!! I didnt get round to hiring the bike this time either because of these pesky coffee shop places..... Theres way more to Amsterdam though, some really hilarious museums on Amsterdams other specialty in the Red Light District are also good for a proper laugh. I was planning on doing the Anne Frank House but the queue there everyday is phenomenal.  Amsterdam is is very nearly unique in the developed world. I love it!
Amsterdam - Check out nextdoors dustbins!
Nurburgring - July 16th - 18th
Nurburgring is about 4hours from Amsterdam, straight down through Nijmegen, Koln and Leverkussen. A first taste of the Autobahn and they are great! I cound'nt go fast for long though because I had to keep fuel costs under control and the digi dash scared me how fast plummeted at 120mph!! Its impressive how much faster you can cover the ground on their roads. On the way down the car nearly over heated and I figured out in a German rest stop the fan switch wasn't working. I bridged it out and ran two wires into the car for now, so touching them together turned the fan on. Of course I then went all the rest of the trip with these wires hanging by me feet, turning the fan on and off manually. Easy! Nothing to worry about, drive it on!
Early afternoon I rolled into Nurburg and could hear cars pounding round the track already, and the weather had changed... it was near 30c and it stayed like that all week. Nurburgring is one of the things Ive always wanted to do, like most of us I guess. I've done trackdays in the UK but planning the trip to Germany was always a 'next year' thing. Not anymore. I was there from Thursday - Sunday giving me lots of time to check the place out and do a few laps. Heaven. Nurburgring is a beautiful track wherever you stand, set in the Eifel hills and forest, even Nurburg village is pretty with a castle high above it as its back drop, contrasted with an array of modern garages for almost every major car manufacturer in the world. I upgraded to a Hotel for this stay, and picked one right next to the track in the village and got my first lap in that evening. The Cav did get a fair bit of attention, and on Saturday it got me recognised by a chap called Danny who I used to know through the Mk2 Astra OC, I'd sold a load of parts to him when I broke my Astra GTE 16v track car. Its an odd moment when you are abroad alone and you hear someone calling your name!! The Brunnchen section of the track was where I spent most of my time when not actually on it, its a big open carpark right next to two fantastic corners. You can sit there all day and watch the track action almost non stop. Every evening it gets busy when the Tourist Laps start at 5pm (tourist laps are the laps you and I get to do, at €28 a pop! At the weekend there were car meets there and people who camped at the track side. All free of charge. Awesome.
No explanation needed on this one!
Pflanzgarten - very fast and there are two bumps just behind the Megane in the shot picture below that mess with your braking. I had the brakes snatch a few times while I got used to getting some speed into the bend.
Brunnchen - my favourite pair of bends, on entry downhill the bend in the forground is very tough as the car wants to slide outwards towards the barriers, I saw some kiddies stack a Twingo here one afternoon. The one in the background, going uphill, is my favourtie on the track. The speed you can carry through it leaning on the diff is immense. Its a great spectator spot too. 
Keeping the right sort of company at the track access point carpark....
I got 6 laps in over the three days, the track is super fast, in places so steep its unbelievable and loads has been written about it so I wont go on. All I can say is that its everything its made up to be. Tourist laps that i mentioned run most week days 5pm - 7.30pm and then all day Sunday. You pay your €28 for a lap, get in the queue and drive up to a barrier. Swipe your card and up goes the barrier, 'The Green Hell' is at your mercy, weill actually as I found out you are at its mercy! I quickly found the brakes were getting so hot after each lap I couldnt do two in a row, considering Im on 308mm Vectra brakes thats pretty impressive. I decided to sit over at Brunnchen and watch the action between my runs. On the Saturday evening I did will to get 3 laps in by being first out and last in either end of the session! Im sure all the modifications Ive made to the car helped around a lap which can be brutal, but I did miss the C20LET for obvious reasons! I'll also admit I had an off.... on the first lap, which Im not sure I should be proud or ashamed off... I got overconfident and floored it going over a blind crest halfway round a bend thinking I'd gone past he apex... I hadnt! It all got a bit messy up over some kerbs sideways and onto the grass. Ive not seen it on Youtube yet! I timed my last lap on saturday at 11m.32s which in all honesty isnt bad. I wasnt on the limit nor going flat out on the straights as being realistic, the car and this journey had a long way to go and breaking it a week in wouldnt be cool!
Someone actually videoed me during the Friday and put it on Youtube! Thanks to that dude! Its the bend where I had my moment on the day before and Im still trying to get it right as you can see!
Video should start in the right place, is not its at 8m13s.
Nurburg down to Cannes July 19th - 21st
I left Nurburgring Sunday morning swearing I'd be back many more times. I had to go down to Nice in the south of France by Wednesday morning to collect two mates from the airport. We'd booked a hotel in Cannes for 7 nights to have a bit of a break in the sunshine around good food. I planned to hit the Alps and see what the fuss was about first. I joined the summer holiday flow of traffic headed to Southern France, mainly the Dutch and Danish, who all seemed to have a caravans too. Leaving Germany missing Trier due to time constraints, into Luxembourg where I stopped for an hour or so -another country ticked off! Then towards Metz, Dijon and Lyon. Final destination was Lake Annecy - picked because it sounded like a good place when i saw it on the map! The Cav made the long journey fine this time, which was really good news after little problems in the first week. It was great driving it on the open and traffic free motorways of France stopping along the way now and then to eat, stretch my legs or less great, pay a toll. I got questioned by customs police outside Lyon, thought I was headed for a night in 'le bastille' but they couldnt find any problems with the Cav! I arrived in the dark, put my tent up in the car headlights then drank some Cider from my own supply which was starting to run low. The Frech dont do cider I was discovering...
Anyway, Annecy is incredible, a bit like a time warp... perfect weather at 29deg for a fresh water swim and some incredible roads. I many ways it made me think what a 1920 English seaside town would have been like, lots of people crowded on the beach and packing out gardens and parks between the shore and the road.
Lake Annecy - Back in a tent....
LakeAnnecy - View from said tent in the morning...

The next morning after checking the place out I got back into the car and headed high into the Alps. Destination tonight was the only site I could get a reservation at short notice and in a place called Embrun and Lac de Serre Poncon, another lake. It wasnt so great! I arrived in the dark and put my tent up in the headlights again! Dinner ended up being a McDonalds in a carpark at midnight. Most places along the trip I was trying to eat well at night, day food was cheap crap from supermarkets. Given I was back in France, this was mainly Crossiants and Pain au Chocolat's!!
I ended up in Embrun because I wanted to spend a couple of days driving in the French Alps. It takes you ages to go anywhere up in the mountains and I picked what looked like a short route, but it took 8 hours including stops! I popped into Switzerland quickly to tick of another county off and spent the rest of the day going up and down mountains along windy roads and round hairpins. The roads and the scenery were epic and it was great to drive my car through that place. The Cav handled the alps well, even on the coilovers which I do have set rather low...The Quaiffe made a massive difference at times when the road was clear and I could go for it a bit, and the lack of power steering made some stints hard work. I dare not think how many gear changes I made that day!
Emburn - Flattering shot of Lac de Serre Poncon...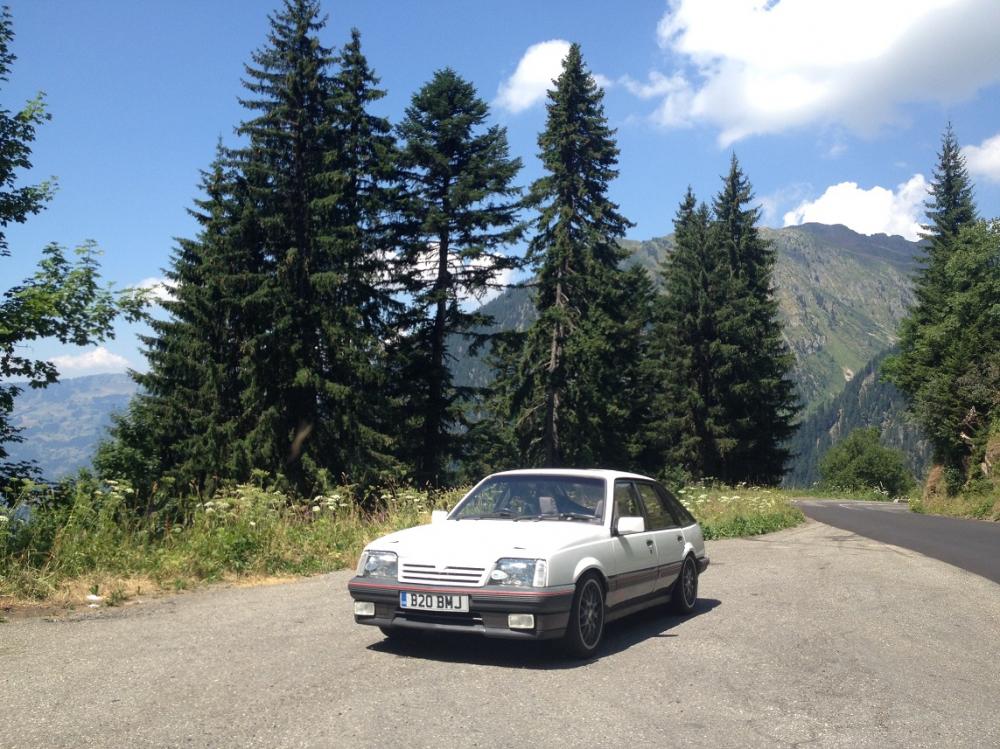 One of the mountain passes I drove along. Its still about 23deg outside and its a lovely day in an awesome place.
Snow!
After Embrun, for the last night of this stint I found a great campsite in the mountains above Nice which was set in an forest and had a pool, much needed laundry facilities and a place called Vence de St Paul a mile or so away where the restaurants were fantastic. I decided to learn from my mistake and pick a shorter route this time. I did cross into Italy for an hour or so when I went to check out a 13km long road tunnel. Shame about the €34 toll fee I copped for my curiosity, but I was able to confirm the car sounded great in a tunnel! I crossed back into France and headed towards a place called Gap at the advice of my Sat Nav. Which had been playing up for a few days and appeared to be about to die at any point leaving me lost up a mountain. Still, at least it wasnt the car letting me donw. Anyway, near Gap things started getting a little odd. Everywhere was really busy. The mountain roads were lined with camper vans too... Whats so great about Gap? Not the name, thats for sure. I found out a mile or so later when I saw the posters. 'Le Tour De France' was scheduled to be in town that night and climbing this hill the next day. I got the hell out of there as fast as I could.... Bikes are fine. Lycra is not. I arrived at the campsite in the dark, and set the tent up in the headlights. Learning from my mistakes was going well! After a great dinner in town, I alarmingly finished off the last of my own cider supply. Time for wine!
Old Train something in Italy. 
Vence - another day, another campsite...
 Gap -Sunset after I got away from Le Tour route.
In Part II - Monaco, Cannes, Milan & Venice, and an oil slick to rival the Deep Water Horizon...